Merchandising Displays
Slatwall
Slatwall is one of the most practical merchandising displays used today. Not only is it adaptable, it can utilize every bit of your sales space. Perfect for awkward corners and limited space, it really helps maximises your sales floor.
Slatwall can go by many different names such as Slatboard, Slotwall or Slat Panels. Whatever you choose to call it, it's simple & quick to install and comes in a massive range of colours, wood effect & stone effects.
Manufactured from MDF with a hard wearing melamine face, Slatwall Panels consist of either 1200mm² boards or 2400mm x 1200mm portrait boards. These have horizontal grooves in them (slats) to which Slatwall Inserts are snapped in, to create an adjustable feature wall. Slatwall Hooks & Fittings are then used to display a wide range of products.
By using either PVC or high quality Aluminium Inserts, they will give the Slatwall Panels strength & will allow you to display heavier products. To complement Slatwall Panels, we also supply Slatwall Gondolas which are standalone Slatwall Islands that can be used in conjunction with our panels to create eye-catching feature displays. You can view our Slatwall Installation Page for more installation tips & information!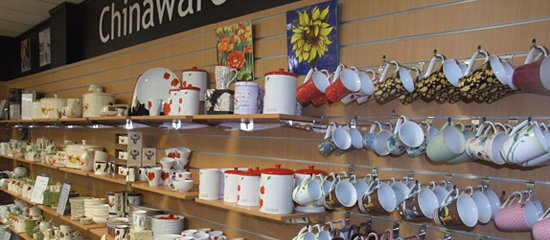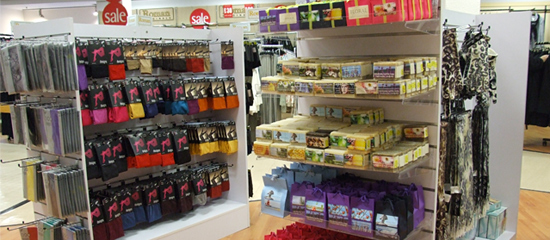 Metal Shelving Bays
Most supermarkets & general stores use metal shelving bays, which is called Retail Display Shelving. These are made from steel and each shelf can typically hold 500kg. All our Retail Display Shelving is powder coated in either a jura cream or silver finish. We offer shelving kits for Wall Bay Shelving or Gondola Bay Shelving, which both have certain attributes.
Wall Bay Shelving consists of a run of metal shelving that is usually 2.1m high and has adjustable shelves. The pitch of these can be 0, 20 or 35 degrees, which produces a tiered effect for greater customer attention. These shelving kits also contain back panels, ticket rails & adjustable feet and are extremely versatile and hard wearing.
Shelving widths of 665mm, 1000mm & 1250mm are available and depths of 200mm, 250mm, 370mm, 470mm & 570mm, give you a wide choice for product placement. These shelving system typically goes up against a wall & can be fixed to secure them further.
This type of shelving system can be adjusted every 50mm, so space is never wasted no matter what type of products you want to showcase. It also allows you to display preferred items at eye level, which all helps to increase sales.
Gondola Shelving Bays have all the features of wall shelving, except they are double shelving units. Each side has multiple shelves with the same specifications as our Wall Bay Shelving. This shelving system is typically 1.4m high and used as central shelving, which is ideal for creating feature display units. These strong shelving units can be linked together to form a run of shelving or utilized for space-saving merchandising.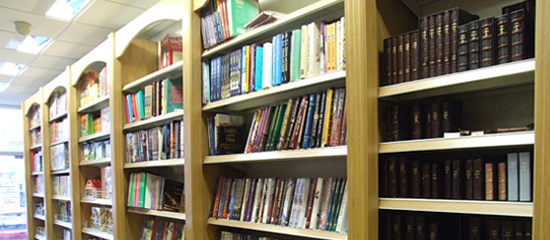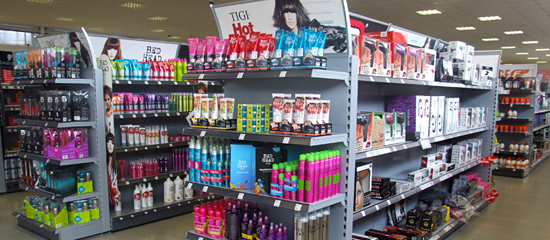 Gridwall Shelving
Gridwall is a heavy-duty shelving system which is often used in DIY stores as it can take a lot of weight. Lattice wire panels or mesh panels are joined together to form large squares and create eye-catching displays. Gridwall Panels are complemented with Gridwall Fittings, enabling a huge range of products to be displayed.
The panels can be fitted to a wall or used with bases to form a movable display rack. Bulky or heavy items are ideal for Gridwall Shelving. They are also very popular with market traders or the automotive industry, because of their adaptability.
Manufactured from bright chrome plated steel, you can also display other items such as heavy footwear or smaller items using Gridwall Shelves & Baskets. Grid Walls are easy to maintain, very cost-effective and quick to install.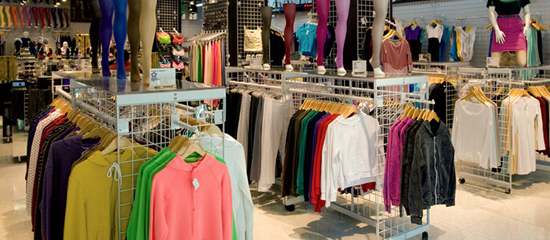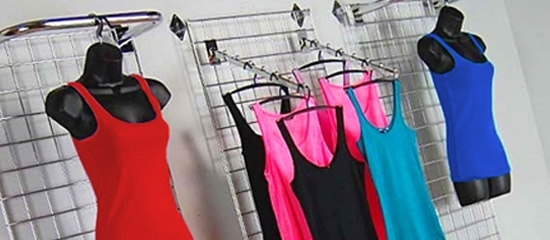 Heavy-Duty Clothing Rails
If your business is fashion, then you couldn't do better than using our Heavy-Duty Clothing Rail Displays. These space-saving steel clothes display rails are very popular and can be moved easily.
We stock traditional clothes rails in black, white or chrome designed to withstand the daily stress of retail fashion. We also have a wide selection of Clothing Stands with multiple chrome arms. Straight arms clothing rails & sloping clothing rails are perfect for small spaces & can be adjusted in height by the click of a button.
If your business is fashion accessories, we offer Revolving Belt Display Stands, Hat Stands, Tie Stands & Lingerie Display Stands. All designed to maximise your fashion display ranges. Uni-Shop has a huge range of clothing display equipment at low prices with next day delivery.
Browse our extensive collection of Shop Mannequins & Fashion Display Equipment!