Back to News List
The Advantages Of Slatwall Panels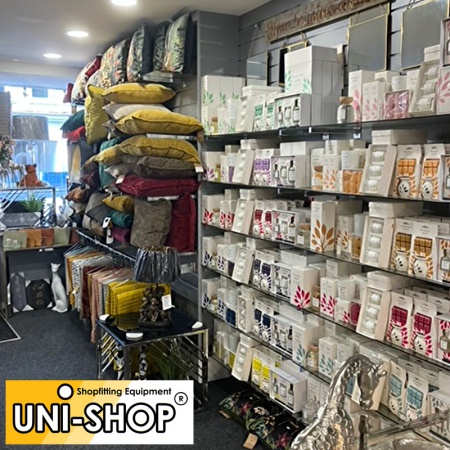 Are you ready to redefine your space, unlocking its true potential for organization, decoration, and storage? Welcome to Uni-Shop, your one-stop destination for premium Slatwall Panels that will elevate every corner of your life.
Why Choose Uni-Shop For Slatwall Panels?
Unmatched Customization: Dive into a world of design possibilities. Our slatwall panels come in a diverse range of sizes, colours, and finishes, allowing you to craft a space that perfectly reflects your personal style.
Space Maximisation: Say goodbye to clutter and hello to optimized spaces. With a wide array of Slatwall Hooks, Slatwall Shelves and Slatwall Accessories, our Slatwall Panels enable you to declutter, display, and make the most of your square footage in ways you never thought possible.
Effortless Installation: You don't need to be a DIY expert to get started. Our slatwall panels are designed for easy installation, ensuring that you'll have a beautifully organized area in no time.
Endless Applications: Whether you're a retailer looking to boost business, a homeowner seeking order and aesthetics, or an entrepreneur looking to streamline your workspace, our slatwall panels cater to a wide range of applications.
Tailored Solutions: We understand that no two spaces are alike. That's why we offer customization options, including different panel sizes and an extensive selection of accessories, so you can create a solution that fits your space perfectly.
Durability and Quality: We take pride in offering top-quality British slatwall panels built to last. These panels are sturdy, capable of supporting substantial weight, and resistant to wear and tear.
How Uni-Shop Can Transform Your Space
Slatwall For Retail Stores: Boost your product displays and create an inviting shopping atmosphere that customers will love.
Slatwall For Garages: Clear the clutter and make the most of your garage space, storing tools and equipment efficiently.
Slatwall For Offices: Enhance your productivity by maintaining an organized workspace that exudes professionalism.
Slatwall For Hobby Rooms: Whether it's displaying collectibles, storing crafting supplies, or organizing sports gear, we've got you covered.
Slatwall For Homes: Revolutionize your living spaces with stylish and functional storage solutions for every room in your house.
Start Your Transformation Today!
Discover the endless possibilities of slatwall panels and unlock the hidden potential of your space. Uni-Shop offers the solutions you need to create a more functional, organized, and visually stunning environment.
Make the smart choice for your organization and decoration needs. Transform your space today!
Date : 31-10-2023
By Unishop