Back to News List
Halloween Merchandising Equipment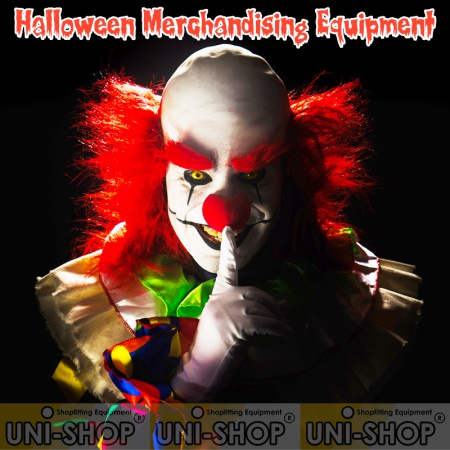 Make the most of the Halloween party season & increase your sales. Uni-Shop have a great range of products to give your Halloween sales a huge boost. Trick or treat time is big business for many retailers & creating eye catching retail displays is a must.
We have everything you need, from shop window display equipment to fancy dress rails & mannequins. Below you will find a wide range of retail display equipment designed to merchandise your sales floor and make Halloween a success.
Perfect for displaying a huge range of products such as Halloween props, coloured hairsprays, face paints & trick or treat items.
Pile up your products ready for the rush. Our chrome plated baskets can hold a huge amount of novelties, from fake blood & make-up to vampire teeth & sweets.
A must have for any shop, our dump bins are a space-saving addition that you can fill with fake spiders, plastic bats, cobwebs, Devil horns, scars & wound kits or even pumpkins.
As well as for your customers to use, our plastic baskets can be used to display so many items and take up less of your shelving space. Fill them with fake creepy crawlies, joke sweets, fake tattoos, black nail varnish & lipsticks.
Make your shop really stand out with our huge range of shop dummies & body parts displays. Ideal for displaying scary masks, wigs, hats, gloves & skeleton tights.
Ideal for compact displays of all your Halloween costumes, angel wings & creepy clown outfits.
Our space-saving display islands come in many sizes and can be utilized to promote higher priced items. Ideal for creating feature displays of Witch hats, Devil tales & general Halloween merchandise.
Create a spooky sales area with our black slat wall panels. By using our Slatwall Hooks & Fittings and a black light fluorescent tube, you can entice customers in with your glowing Halloween products display.
For heavy items such as corpse costumes, skeletons, zombies, ghost costumes, mummy costumes, Voodoo dolls & Grim Reaper costumes use our Gridwall accessories. These steel wire mesh displays can hold a lot of weight & to accommodate a wide range of accessories from baskets to display hooks.
Our glass showcase cabinets & counters can be used for high-end product displays. Providing LED lights & secure locks & storage options, you can relax in the knowledge that your products are safe & secure while providing an attractive feature display. Use our secure cabinets for freaky contact lenses, scar skin kits, stink bombs, silly string, & fireworks.
Date : 04-10-2022
By Unishop