Back to News List
New Security Lock For Display Hooks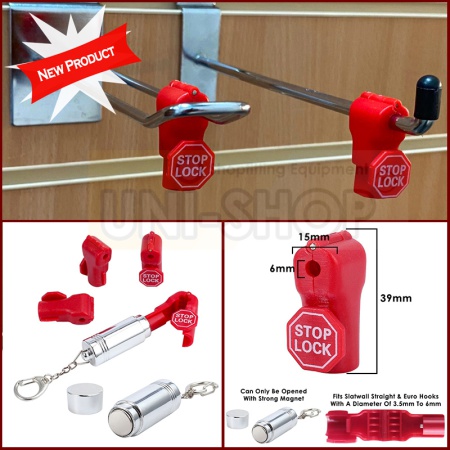 Uni-Shop have a new security product for all Slatwall Euro & Straight Hooks. This clever device simply clicks over a Slatwall Euro Hook or Slatwall Straight Hook to prevent the product from being removed by thieves.
Made from durable plastic, the lock can only be removed with the powerful magnetic key. Stop Lock is printed in a vibrant red colour to notify customers that this item is security protected.
Perfect for protecting high value items such as mobile cases & electronics. This prong lock fits all our hooks with a diameter of 3.5mm to 6mm.
Available separately or a bundle of 100 with a free key!
View our video & buy your Security Stop Lock Now!
Compatible With:
Date : 02-08-2022
By Unishop