Back to News List
Uni-Shop Donates 20,000 To Farplace Animal Rescue!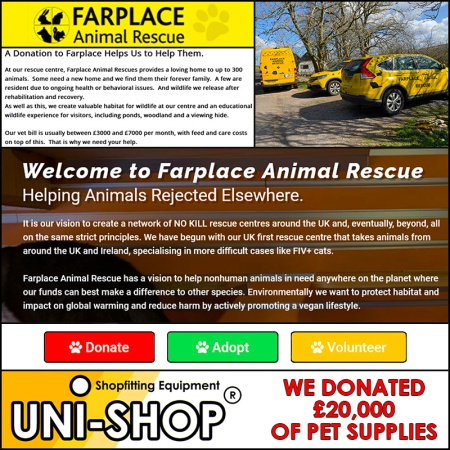 Uni-Shop has donated £20,000 of pet supplies to leading animal charity Farplace. Our sister company United Storage Systems Ltd, had an associated pet shop once upon a time and we arranged for a valued customer of ours to receive a container full of pet supplies.
Farplace Animal Rescue is a worthy charity with branches all over the UK. We have supplied the business with Retail Display Shelving for most of their stores and work closely with the director, Gareth Edwards. We were really pleased that we could donate much needed goods to this charity that started in 2008 and have quickly grown.
With the help of volunteers, they have recently opened a specialist rescue centre that specialises in treating cats with FIV+ and will help any type of animal. You can help by offering to spare a few hours to help out, donate or adopt one of the many animals they care for.
Uni-Shop is very grateful for the donation by our company group member United Storage Systems, who specialise in Mezzanine Floors, Storage Racking and Self Storage Units.
We wish Farplace success and are proud that we were able to help!
Date : 20-05-2022
By Unishop