Back to News List
Slatwall Panel Guide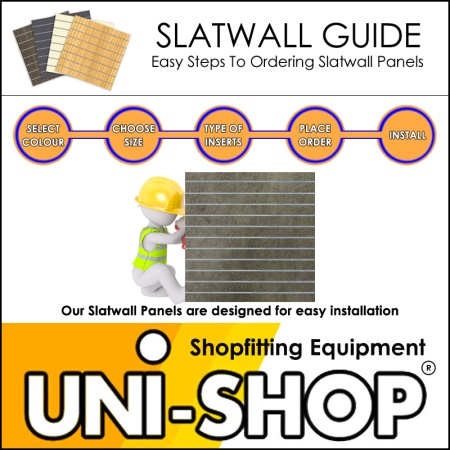 Looking for a cheap & simple way to rejuvenate your store displays? Slatwall Panels are a professional choice for many retailers. With a huge range of colours & wood effects, our Deluxe Slatwall Boards offer practicality with a superb design that's easy to maintain.
Uni-Shop offer two sizes of Slatwall Panels, 1200mm x 1200mm & 2400mm x 2400mm. Both are in a portrait design, i.e. the slats are horizontal. Buy purchasing the smaller sized boards, installation is easier and cheaper on delivery costs. The smaller boards have a lip on them so you can butt them together to your required height. The join is invisible when Slatwall Inserts are used to cover it.
Slatwall Inserts add strength to Slatwall Panels and make for a better securing of our Slatwall Hooks & Fittings. We offer Coloured Slatwall PVC Inserts in a wide range of colours and for a professional look we supply Aluminium Slatwall Inserts. Aluminium Inserts offer the most weight bearing for Slatwall Accessories, typically 500kg. Very useful when purchasing our Slatwall Shelving.
To finish off, we also supply a range of Slatwall Panel Edge Trims. These give our panels a professional look and help to enhance your product displays. They will also match our Slatwall Gondola Units which are perfect for centre piece displays.
Slatwall ordering is simple as we give you all the options you need. Once we receive your order we aim to dispatch it the same day with delivery typically being 1-2 days. Or you can order Slatwall online & collect from our store.
Once you receive your Slatwall Panels you can start installation. We have produced a simple Slatwall Installation Guide to help you. If you need any further assistance then use our live chat service or give us a call on 01279 870333 - We are here to help & make sure you are happy with your purchase!
Date : 23-09-2021
By Unishop