Back to News List
New Pick & Mix Fit Out For Chocolate Fantasies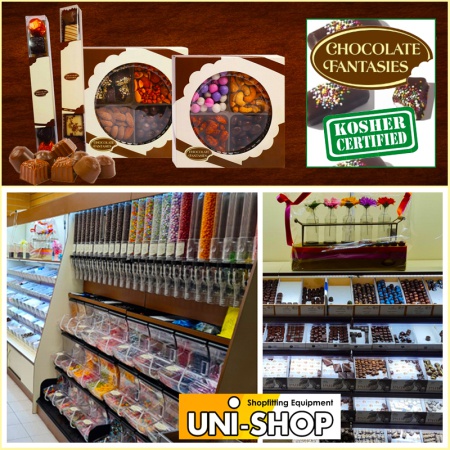 Uni-Shop had a mouth watering shop refurbishment last week - A shopfitting for Chocolate Fantasies in Stamford Hill, London.
The Kosher chocolate company is a must-visit for chocoholics, with a vast array of tasty treats. They specialise in chocolates for all occasions and have some wonderful presentations. From premium boxes and platters to liqueur arrangements, this company does it all at fantastic prices.
Uni-Shop were called in to design a high-end pick & mix sweet installation. We specialise in pick & mix retail displays and have completed many installations in the past. After consultation with the business owner, we installed our popular sweet scoop containers, gravity fed containers and bespoke tiered displays.
The shop-fit also included acrylic doors, storage bins & LED lighting. The premises look fantastic and is sure to increase it sales with the wonderful display.
We wish Chocolate Fantasies success with their new venture & can't wait until Easter!
Date : 16-02-2021
By Unishop