Back to News List
Refit For Kay's Local - Kosher Supermarket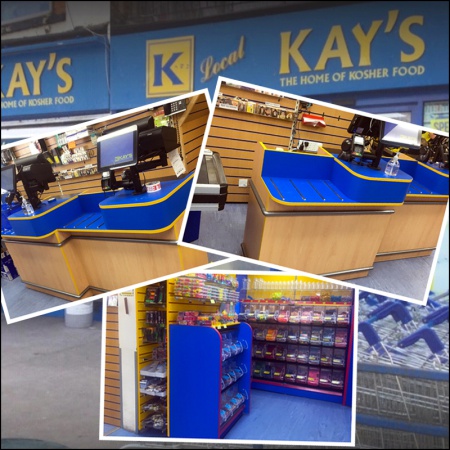 Uni-Shop have completed a shop refit for Kay's Local - A Kosher supermarket, based in Golders Green, London. We initially fitted out the shop many years ago and were contacted recently and asked to design a new layout for them.
The business wanted to expand their product range and incorporate new product lines, to maximise the potential of the sales area and streamline serving customers.
After planning and consultations with the owner, Uni-Shop set about putting the customers vision into practice. We designed & installed two express checkouts, in a vibrant blue colour chosen by the customer. These incorporate EPOS systems & PDQ terminals, with under-shelf till drawer.
A pick & mix sweets unit with matching coloured scoop bins & deluxe Yellow Slatwall was also incorporated. Finally, the store was panelled out in Beech Slatwall Panels with Slatwall Shelving & Slatwall Fittings.
Our Recycled Plastic Shopping Trolleys were also ordered, adding to the professional make-over of the store. The vibrant Slatwall Colours and contrasting Shop Fittings are really enticing to customers. The whole store has taken on a fresh, new, modern look and is very appealing.
Uni-Shop are pleased to have had the opportunity to give the store a new make-over after several years and wish Kay's Local success for the future. We have worked alongside Jewish businesses in London for over 35 years and our well respected in the community.
Find out what we can do for your business today! Contact Us today on 01279 870333 to take your business to the next level.
Date : 02-02-2021
By Unishop