Back to News List
New Display Shelving For Scotts Of Southend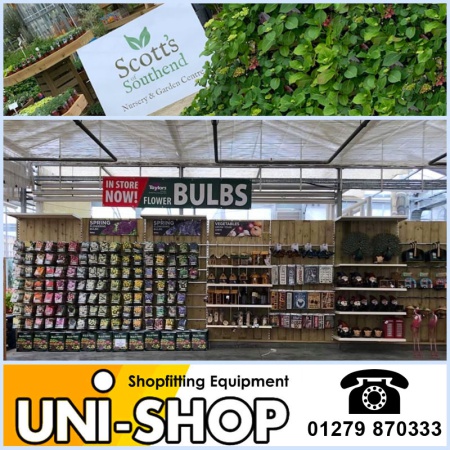 One of our long time customers Scotts of Southend, got in touch with us last week. The large garden centre & animal feed supplier, are based in Rochford Essex. They have been trading for many years and supply a wide range of products including flowers, plants, trees, veg, fruit, herbs, tools, statues, aggregates, furniture, lawn-care, feed, weedkillers and more.
This time we were asked to provide retail shelving for their range of plant seeds. We used our System 50 Wall Shelving which incorporated a stunning wooden background. To this we added uprights with accessory bars, which were used to attach individual hooks.
The results speak for themselves and created a visually enticing customer display. We wish Scots of Southend success with their new shop shelving.
Our retail shelving can be adapted to suit all individual businesses. Call us today on 01279 870333 for advice on your shelving requirements.
Date : 21-09-2020
By Unishop