Back to News List
Recyclable Plastic Shopping Trolleys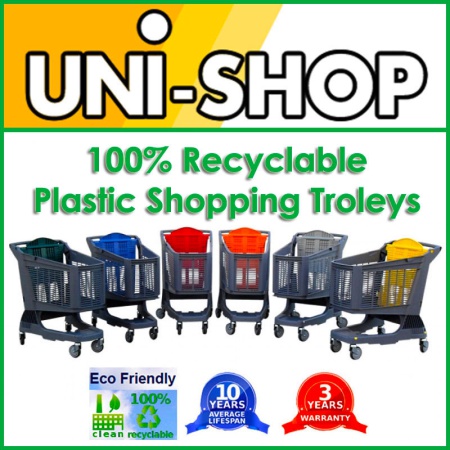 Our Plastic Shopping Trolleys are 100% recyclable. They are manufactured from a single piece of plastic and last for 10 years. A new concept in supermarket trolleys, as there is no waste when the tine comes for them to be recycled.
The most common complaint with wire trolleys is of course steering! Our environmentally friendly Plastic Shopping Trolleys get over this problem by being lighter yet very sturdy. This eliminates bent metal fixings, which keep our trolley wheel alignment perfectly intact. This ease of manoeuvrability lasts throughout the lifespan of this future-proof shoppers' trolley.
Other features of this new 100% Plastic Supermarket Trolley are, no metal parts to come loose, rounded plastic edges to protect cars paintwork and injury bumping into other shoppers. No rust to contend with, less likely to get stolen as there is no steel, and they are maintenance free.
With a host of bespoke options including:
78 litres to 220 litres capacity
Wide range of colours
Company name or logo on handles
Coin locks
Travelator wheels
Relaxt handles
Ecogrip handles
Bag hooks
Lower tray
Basket dividers
Child seats
Date : 28-06-2020
By Unishop