Back to News List
New range of Slatwall Glass Shelves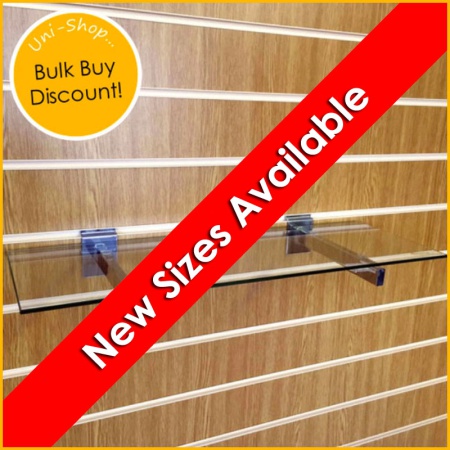 We have expanded our range of Slatwall Glass Shelves to include more sizes. Our Glass Slatwall Shelving now has extra sizes of 600mm, 1050mm & 1200mm wide.
You now have the option to have a toughened Slatwall Glass Shelf, that will span the entire width of our 1200mm Slatwall Panels. This gives you the option to create stunning retail displays.
Slatwall Glass Shelves are a perfect Slatwall Accessory to showcase your products. Bouncing light around your sales area and promoting eye-catching displays. We even offer bulk buy glass shelving deals to promote your goods effectively.
Available in the following sizes:
600mm x 200mm x 6mm
600mm x 250mm x 6mm
600mm x 300mm x 6mm
600mm x 350mm x 6mm
1050mm x 200mm x 6mm
1050mm x 250mm x 6mm
1050mm x 300mm x 6mm
1050mm x 350mm x 6mm
1200mm x 200mm x 6mm
1200mm x 250mm x 6mm
1200mm x 300mm x 6mm
1200mm x 350mm x 6mm
Date : 23-06-2020
By Unishop