Back to News List
2nd Store For Smarty Schoolwear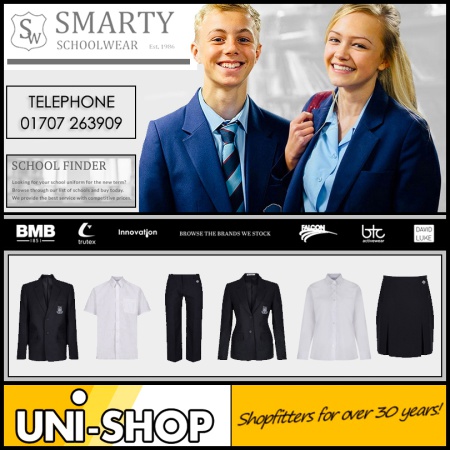 We have just finished refurbishing a new store in Stevenage, Hertfordshire, for Smarty Schoolwear. Founded in 1986, this expanding company supplies tailored uniforms and sportswear, to a wide number of school's in the local area.
School requirements are widely catered for in their product range, whether it's uniform, sportswear or accessories. They only source products from trusted brands within the School Uniform supply industry. Thus ensuring customers, that all products are ethically manufactured and environmentally friendly.
Uni-Shop were called in again after initially supplying the companies first store in Hatfield. We supplied & fitted the main display shelving, consisting of our practical Twin Slot Shelving, Slatwall Panels & Clothing Rails. A Retail Counter was also supplied, which really set the style for the new shop.
We wish Smarty Schoolwear success with their new venture & look forward to helping them with their 3rd store!
Date : 16-02-2020
By Unishop