Back to News List
Serving Poole Farm Feed Centre For 25 Years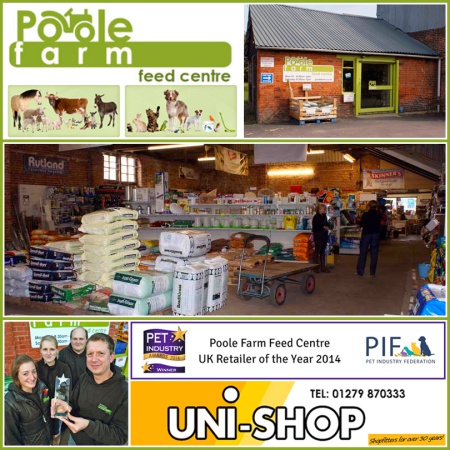 Uni-Shop have had a long relationship with Poole Farm Feed Centre. We have watched the company based in Great Yeldham. Suffolk expand over the last 25 years. We worked with them from the beginning, when the family run business was initially owned by the Father and later, past down to the children. The company specialise in over 2500 products including animal medicines.
The premises span two large warehouses, with retail space of over 1,200 square meters. In addition, there is a chicken house and free-range area which houses up to 150 point of lay chickens for sale. The highly trained staff have a wealth of experience and product knowledge. Always on hand to offer advice, the qualified Animal Health Advisors can prescribe and sell animal medicines for farm animals, horses, pets and poultry.
Due to the size of the retail establishment, the company has upgraded their merchandising areas over time. Uni-Shop have supplied retail shelving since 1995 and have become great friends with the owners. Building good working relationships is all part of our ethos. The fact that we are still here after 33 years is testament to our values and success.
We wish Poole Farm Feed Centre all the best for the future. We are proud to recommend them for their wonderful shopping experience.
Date : 12-02-2020
By Unishop