Back to News List
Expansion For Street Motorbikes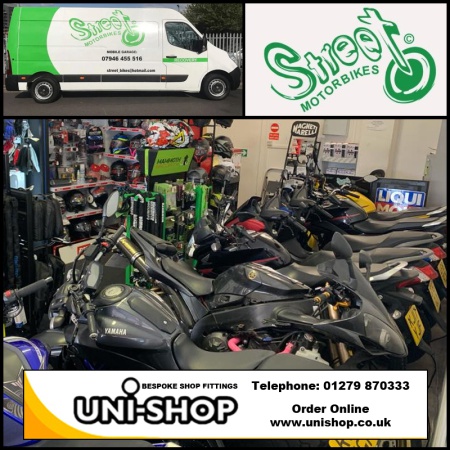 This week we had the pleasure of supplying shop fittings to Street Motorbikes Ltd. The company provide motorcycle servicing and repairs in the London area. They're passionate about motorcycles with a team of friendly and knowledgeable mechanics.
Established in 2013, they are now expanding the business and asked Uni-Shop for Silver Slatwall Panels & Slatwall Accessories to kit out their new shop.
They sell a wide rang of motorcycle parts including:
Motorcycle batteries
Motorcycle helmets
Rider accessories
Motorcycle boots
Motorcycle clothing
Motorcycle gloves
Motorcycle covers
Motorcycle jackets
Motorcycle/Rider bags
Motorcycle tyres
Motorcycles Security
Motorcycles winter accessories
Genuine Maintenance parts & after Market parts
Uni-Shop were glad to help and we wish them success with their new venture.
Date : 12-09-2019
By Unishop