Back to News List
New Recyclable Supermarket Trolleys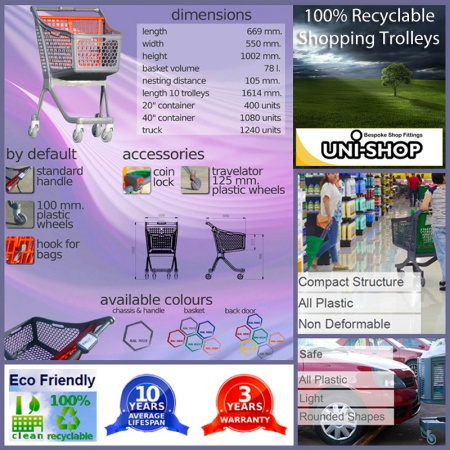 Uni-Shop has just started selling 100% Recyclable Shopping Trolleys. These eco-friendly Supermarket Trolleys have all the features of standard wire trolleys, but with none of the problems!
Uni-Shops Recyclable Supermarket Trolleys are both lightweight and compact. They also nest together much tighter than other metal trolleys, thus reducing the need for a large storage space. This is also better for the environment as it reduces loads carried by delivery vehicles.
All parts of our Recyclable Plastic Store Trolley can be recycled back at the factory and made into new trolleys or something else. A very clean process of recycling that uses no chemicals, as with other trolley recycling. Available in an attractive colours with vibrant coloured gates, these eco-friendly Supermarket Trolleys are the way forward.
The most common complaint with wire trolleys has always been steering! But our environmentally friendly Plastic Shopping Trolleys do not have that problem as they are lighter, yet very sturdy and easy to steer. Traditional shopping trolleys suffer from bent fixings, but our Plastic Shopping Trolleys retain their shape, which keeps the wheels aligned perfectly. A popular feature that lasts throughout the lifespan of these future proof Supermarket Trolley.
Your store name on the handle

Trolley locks

Travelator wheels

Custom Guarantee: 3 years
Average lifespan: 10 years
100% recyclable
Wide choice of accessories
View our Recyclable Supermarket Trolleys!
Date : 18-06-2019
By Unishop