Back to News List
Electric Shop Checkout Counters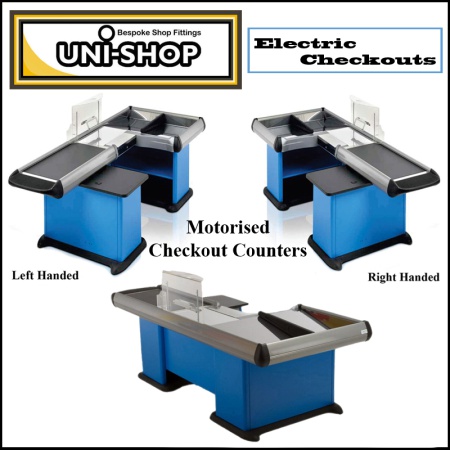 We have a beautiful range of Electric Shop Checkout Counters, at fantastic prices. Our Domina Motorised Checkout Counter is available in left or right hand versions.
Domina is a perfect choice for a Belted Checkout Counter. Two abs pillar legs provide not only a very stable support, but also brilliant access for cleaning and so easier compliance with health regulations. They also ensure that the metal components of the checkout are not in contact with the ground. Thus removing floor and water contact to the base, so future rust problems common with other manufacturers checkouts do not occur.
To the front of this electric checkout conveyor belt, there is a smooth head manufactured from abs to give a hard wearing, cost effective and unique built in basket support. A built in Magic Eye plus a foot pedal control, for ease of use of the conveyor also comes as standard. A great range of optional but logical accessories are also available.
Date : 13-06-2019
By Unishop