Back to News List
Shop Refit For The Samaritans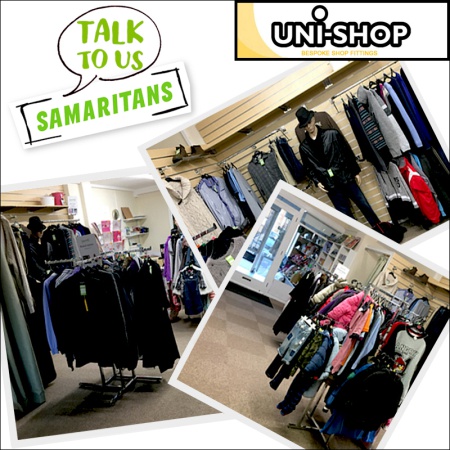 We had the pleasure of refurbishing a Samaritans charity shop this week. The business in Worthing, West Sussex, is a fantastic charity that have helped so many people over the years. We were called in for a complete shop fit to maximise their sales area.
We wanted to create an inviting atmosphere, where donations could be clearly seen and displayed to their full effect. Particular attention was need to merchandise the clothing area. We installed our popular Ash Veneer Slatwall Panels that created a beautiful backdrop to the clothing.
Using our Slatwall Garment Hooks, Slatwall Hanging D Shape Clothing Rails, Slatwall Shelving and our Slatwall Straight Arms, we soon had the basic layout complete. We also used our Chrome Plated Clothing Rails to accentuate individual clothing displays.
The Samaritans offer people so much support and you can talk to them about a wide range of issues.
Common reasons people contact them are:
Relationship and family problems
Loss, including loss of a friend or a family member through bereavement
Financial worries
Job-related stress
College or study-related stress
Loneliness and isolation
Depression
Painful and/or disabling physical illness
Heavy use of or dependency on alcohol or other drugs
Thoughts of suicide
We wish the Worthing store all the best for the future.
Story By:
Uni-Shop
Date : 15-02-2019
By Unishop