Back to News List
Our mannequins look fantastic at the NEC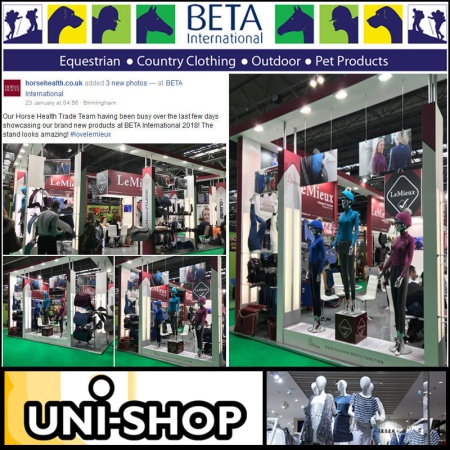 Our retail mannequins were presenting equestrian clothing at the NEC this week.
Horse Health supply a fine range of equestrian products, covering everything from calmers, performance supplements, LeMieux ProSport saddle pads, rugs, competition equipment & equine care essentials.
The company based in Southampton, needed to showcase their equestrian products at the The British Equestrian Trade Association (BETA), at the NEC in Birmingham.
Uni-Shop were pleased to offer its services and judging by their Facebook page, Horse Health should have come first place for presentation. Horse Health said "The stand looks amazing!" We wish them every success for the future.
We have a huge range of mannequins to help you display your products to full potential. Our popular shop mannequins come in a range of sizes and include Bubble Head Mannequins, Chrome Mannequins, Featureless Egg Head Mannequins, Headless Mannequins, White Mannequins, Black Mannequins, Flesh Tone Mannequins, Tubular Mannequins and Tailors Dummies all at competitive price.
View our range of Shop Mannequins Now!.
Story By:
Uni-Shop
Date : 26-01-2018
By Unishop