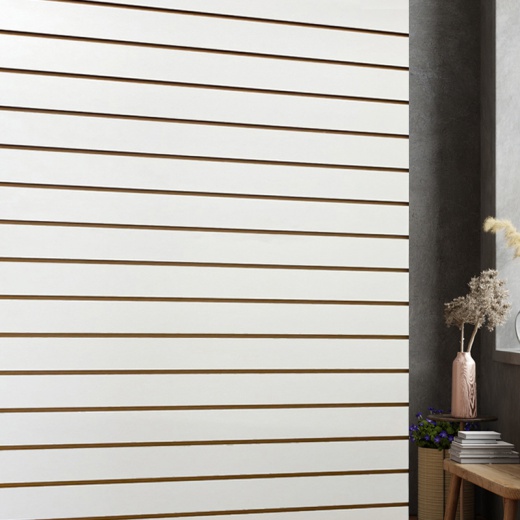 Slatwall Panels
Our Slatwall Panels are an easy way to transform your store. Slatwall offers a clean, crisp background to your product displays, which helps customers focus their attention as soon as they walk through your door.
All our Slat Wall Boards are available in two sizes, 1200mm x 1200mm or 2400mm x 1200mm portrait style. Manufactured in the UK, from 18mm thick MDF with a laminated face, they are extremely strong & easy to install.
Cleaning Slat Wall Wooden Panels couldn't be easier, all it takes is a quick wipe with a damp cloth. For stubborn stains, we suggest using a little toothpaste on a damp cloth to bring back the shine.
Displaying product prominently and safely is simple with our Slatwall Accessories or Slatwall Shelving. To increase the amount a Slatwall Panel can hold, you should purchase our Coloured PVC Slatwall Inserts. For maximum weight-bearing, use our Aluminium Slatwall Inserts. As a rough guide, our Metal Slatwall Fittings can hold approximately 15kg when used with these Inserts.
Available in a wide choice of colours & Deluxe Slatwall Panels, Uni-Shop gives you all the tools you need for successful merchandising. For more information & handy tips, read our Slatwall Installation Guide.
You can view more Slatwall Panel colour options below!